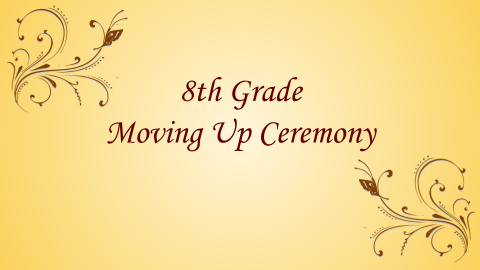 MBMS 8TH GRADE MOVING UP CEREMONY & DANCE INFORMATION
Friday, June 17th, 2022 (Last day of school), 9:15 am - 10:15 am
8th Grade Families and Students,
We are coming to the end of the school year. It's time to start preparing for the Moving Up Ceremony and other end of the year activities for our 8th grade students. Below are some things you need to know:
Moving-up Ceremony
The Moving Up Ceremony for 8th grade students will be at 9:15 a.m. on Friday, June 17, 2022 and will conclude by 10:15. The attire is dressy, but not formal. We request that students dress in their "Sunday best" but also keep our dress code in mind when selecting their outfit. The ceremony will be in the Commons gymnasium.
What time should students arrive and depart?
8th grade students may arrive at Mount Baker at the normal start time (7:25 a.m.) and must attend regular morning classes or arrive at 8:45 a.m. to get in line for the ceremony. Students will not be allowed to wander the campus between 7:30 and 8:45. After the ceremony, students may go home with their guardian at 10:15 or may return to their regular classes for the remainder of the day (dismissal at 12:00pm for early release). Regular bus transportation to and from school is available.
Who can participate in the ceremony?
We want all students to participate in this event. Participation in the Moving Up Ceremony will be contingent on academic effort, behavior and attendance through the end of the school year and is a privilege.
Students are expected to:
● Attendance - Attend all classes. Students with unexcused absences will be reviewed and a determination will be made by administration regarding their participation in the ceremony.
● Behaviors - Students may not receive any excessive behavior referrals and/or in-school or out-of-school suspensions.
● Academics - Students must maintain good academic effort. Unsatisfactory academic effort will be determined by teachers and the principal. We will look at students with failing grades as well as standards based level 1 or "IE" grades to determine if the student is putting in effort to improve through the last week of school.
Who can attend the ceremony?
We do not require tickets to attend, but space is limited. Please invite only immediate family members – unfortunately there is not enough room for friends or for relatives outside of the family. Please note that balloons are not allowed in the gym. If balloons are brought to the school, they will need to be left in the car.
Parking is limited in the school parking lots. There will be some street parking available. Carpooling is highly encouraged and appreciated. Please note, elementary student drop off is from 8:30 to 9:00. No curb parking will be allowed until after 9:00 in the west parking lot by the Commons.
8th Grade Dance:
The 8th Grade Moving Up Dance will be Friday, June 17, 2022 with LaVenture Middle School. Time to be determined, in the Mount Vernon High School Cafeteria. The attire is dressy, but not formal. There is no cost for this dance. Tickets will be provided to all 8th grade students at the Moving Up Ceremony. Students who are not eligible to attend the Moving Up Ceremony, will not be allowed to attend the dance.
8TH GRADE DANCE HELP NEEDED!
Help needed:
--Chaperones (6/17, 6-8 PM @MVHS)
--Decorations ($ donations, green/black/white crepe paper, and/or help decorating)
--Snacks/Drinks ($ donations or items)
Please contact:
(If we do not have enough chaperones the dance will be cancelled.)
As with all middle school dances, security will be present and we expect students to be on their best behavior. Students are required to stay at the dance until it is over unless a parent comes to the door to pick them up. Activities, in addition to dancing, will be provided at this event.
We encourage all our students to work hard through the end of the school year. It is important for all assignments to be completed and turned in on time and for students to put forth their best effort and show good behavior. We are very proud of our 8th grade students, the MVHS class of 2026! We hope you can join us as we celebrate their accomplishments at MBMS.
Sincerely,
Jennifer Harlan, Principal, Mount Baker Middle School